Welcome to Motherant.Com
Are you a Working Mom who is tired of feeling guilty because you don't get to spend MORE QUALITY TIME with your family especially your baby?
Are you a Stay-at-Home-Mom who hates being judged because you have no income source and you wish to earn from home while doing your Mommy duties?
Do you have a business that NEEDS a website or blog to ATTRACT MORE CLIENTS and ESTABLISH LONG-TERM RELATIONSHIPS?
Dear Friend,
If you answered "YES" to any of these questions, then this message is for YOU!
What if 6 months from today, you find yourself:

Managing a profitable blogging business from the comfort of your home, doing services you love or selling products you always wanted to create, while taking care of your baby?
Blogging and promoting your business and earning up to 200% more clients and sales?
MY FRIEND, this is Charlyn June for Motherant.Com telling you, YOU CAN DO IT EVEN IF YOU ARE NOT A WRITER OR NON-TECHIE!
You just need to be coachable, an action-taker, and NO QUITTER.
I will be teaching you the MOST IMPORTANT SKILLS and STRATEGIES you should know in order to create a WEBSITE OR BLOG THAT CONVERTS.
I believe that when you start a blog, you already started a business!
BUT, WHY A BLOGGING BUSINESS?
It is one of the most effective ways to build authority in whatever field you want to STAND OUT. (Ex. If you want to be trusted as an online coach, you have to have an online portfolio where your customers can go check you out)
You can do almost anything you love inside a blog and earn from it. You can be a travel blogger, food blogger, pet blogger, health & lifestyle blogger and earn from sponsored ads. You can be a mommy blogger, sign up for affiliate programs and earn from commissions. You can be a digital entrepreneur and sell your e-books, e-courses, etc. You can be a book author or speaker and share your tips and stories to your audience to gain more event invites...and MANY MORE!
Owning a blog (which means owning a personal address in the internet), gives you full control of what you want to publish for your target market to read. You have full control of the branding and design.
Finally, it is a part of a SALES FUNNEL, which is a MUST if you want your online business to be profitable.
HOW THE BLOGGING BUSINESS CHANGED MY LIFE & HOW IT CAN CHANGE YOURS TOO!
Are you struggling right now? Do you think you are Non-Techie?
Hey, I was once in your shoes.
I also struggled.. and failed many times.. I even gave up once because I thought this business and career wasn't for me.
People didn't believe I can do it anyway.
They even judged me when I left my PERMANENT position in the government to pursue my online freelancing career.. BUT ONE DAY, things changed..
I earned my first client (after my resignation). I was hired to write 5 blog posts about beauty products. After that, he hired me again and raised my rate. This started my online freelancing journey.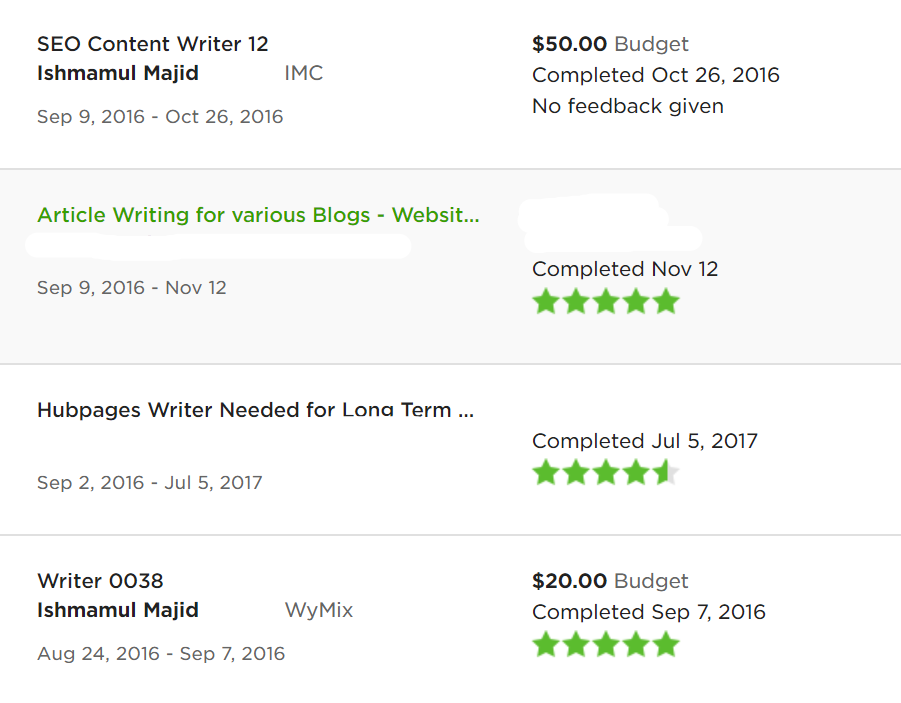 But, what did I do differently? Why was I hired for this job?
I had an existing online portfolio. I have a free-hosted Wordpress and Hubpages blog where I gather all my writing samples that time. It made me stand out from my competition. I left my job in the government first week of August 2016, and look, it took me NOT even a month to earn my first client.
And, if you will notice on the screenshot, I earned two more clients in September (one of which I just recently ended the contract with because I needed to focus on my own products.)
At present, I receive more than 30 invitations to interview a month (4 or more a day).

Most of the time, I won't answer irrelevant invites and if a job post looks interesting, I would accept the interview. Here's a screenshot of one of my recent interviews: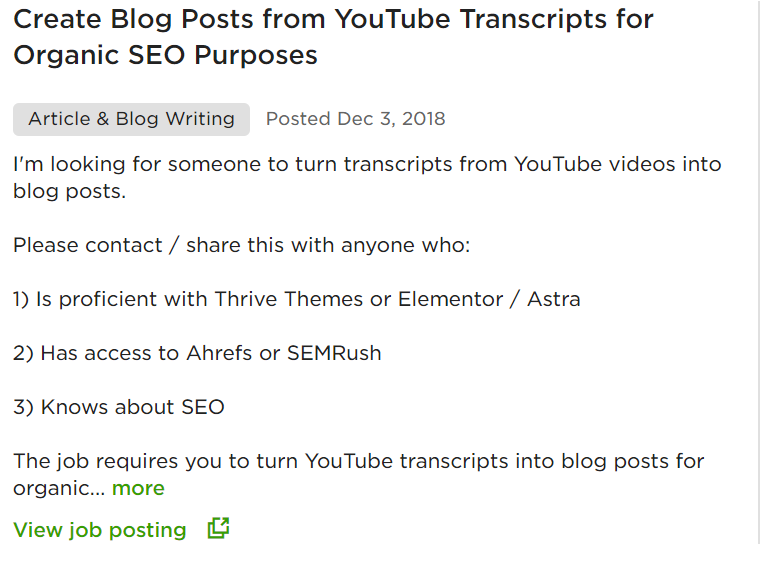 Here's what the client said when I sent him my cover letter.

And, when I followed up:

Through the years of being an online freelancer, I had been observing what my clients were doing inside their own online businesses. I took note of their strengths and weaknesses, I learned new skills such as SEO, E-mail Marketing, and SMM. I even enrolled in several free and paid courses and read thousands of blog posts to validate every learning.
What I realized is that:
"A business NEEDS a WEBSITE OR A BLOG" no matter what niche your business is. Look at how many business owners are looking for blog post writers for their businesses. They are willing to pay, why? Because it is part of today's online trend. It helps you gain more customers and sales online.
And so, I took this career even MORE SERIOUSLY. I listed the most important tools an online business must have and studied the easiest ways to launch a website. Eventually, I put up my own self-hosted website to test if everything I learned works for me too!
Guess what? IT DEFINITELY WORKED! I gained more projects as an online freelancer and now, I am selling my own products in my blog to earn extra income. Agencies are contacting me directly online or through my mobile and e-mail to talk about new projects.
One thing more, now, I can bill my clients with higher rates than before.
If it worked for me, my students, and MY CLIENTS (who have different types of businesses), it will surely work for you too!